WHO WILL TESTIFY AT YOUR JUDGMENT?
When asked about the basis of their salvation, many christians cite verse after verse of scripture, just as they will probably do at their judgment. That's essentially what we see the people in Matthew 7:21-23 doing. They are giving Messiah Yahoshua all the reasons why they should be declared righteous before the Father. But, He says "Depart from Me, I never knew you." He will not defend them before the Father, so they will be left to defend themselves.
Those who belong to Messiah according to Romans 8:9 will say absolutely NOTHING at their judgment, for they have an advocate—a defense attorney—in Messiah. HE is the one who will plead their case before the Father.
And, when it comes time for testimony to be presented regarding the righteousness vs. unrighteousness of the defendant, the Witness who is given to Yah's children (1 John 5:10) will testify of the believer's righteousness, because He is the one who clothed him in the righteousness of Messiah Yahoshua. The defendant will still NOT SPEAK. But, after the testimony of the Witness, the Father will declare the defendant "NOT GUILTY."
Consider any court of law. When one has a defense attorney, it is the attorney who pleads his client's case. Those who have no defense attorney are left to defend themselves. Yah abhors those who justify themselves before Him. And, when it comes time for testimony in their cases, those who are not Messiah's according to Romans 8:9 will have no Witness within themselves.
So, the believers, according to 1 John 5:10, who have shared the truths of Messiah Yahoshua with those defendants, will be called to testify that the true Gospel of Yahoshua was shared with them, but they will be shown that they rejected those truths (often, choosing to cling to the false teachings of christianity, or any other religion).
So, when those who are indwelt by the Holy Spirit share the true Gospel of Messiah Yahoshua, they are either feeding His sheep, or they are providing evidence for judgment.Those who are indwelt by the Holy Spirit should never ask which one they are to do, they should merely share His truths.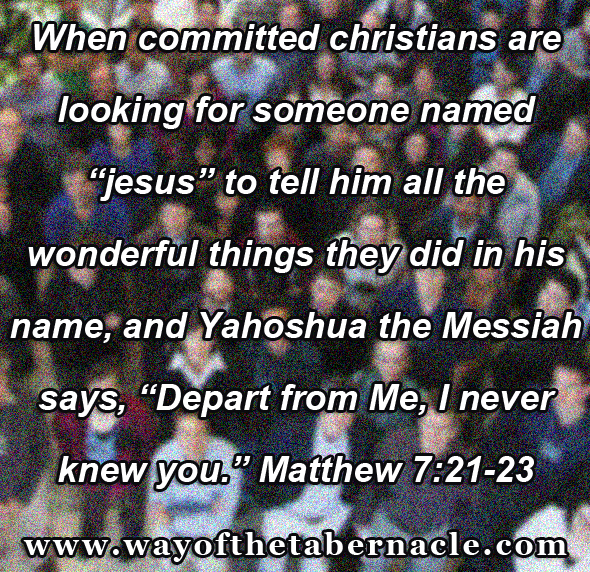 Written by Dean Haskins for Way of the Tabernacle. Reproductions with proper attribution are allowed and encouraged.
Salvation
Traditions
Other Truths
But now in Yahoshua the Messiah you who formerly were far off have been brought near by the blood of Christ. For He Himself is our peace, who made both groups into one and broke down the barrier of the dividing wall, by abolishing in His flesh the enmity, which is the Law of commandments contained in ordinances, so that in Himself He might make the two into one new man, thus establishing peace, and might reconcile them both in one body to Yah through the cross, by it having put to death the enmity. Ephesians 2:13-16